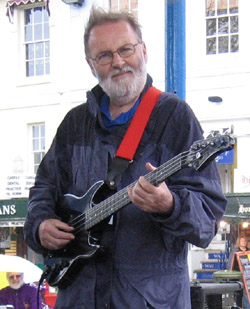 Baron von Bass AKA 'Peter' woos the crowds of Horsham with yet another Shadows impersonation.
Husband to Daphne, Peter wields his bass in the classic 'axe' fashion of thrash-metal bands gone by. A misspent youth of fast cars and loose women set Peter on the long winding path that inevitably leads to the bass guitar. Enough said.
Key Benefits
A band without a bass player ?!?!
'Fridge' style amplifier goes up to 11 with a rather charming buzzzzzzzzzzzzzzzzzzz.
Keeps Daphne in the manner she is accustomed to.
Previous Convictions