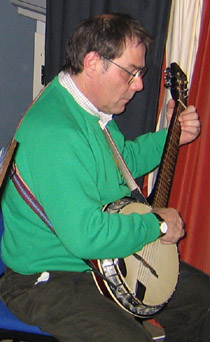 It's a Banjo -but not as we know it..........
A regular pilchard since 2003, Malcolm brings a wealth of opinions to the band. Never one to shy away from musical stigmas, Malcolm adopted the guitar banjo as his main instrument of choice at an early age. His talents also extend into the handheld bellows of the concertina and the sweet warbling of the human voice (usually his own).
Outside of Pilchards, Malcolm runs his own washing machine, dishwasher and cooker repair business -renowned throughout the district of Horsham & Crawley.
Key Benefits
Conversation
Been there and done that
Practices regularly
Previous Convictions